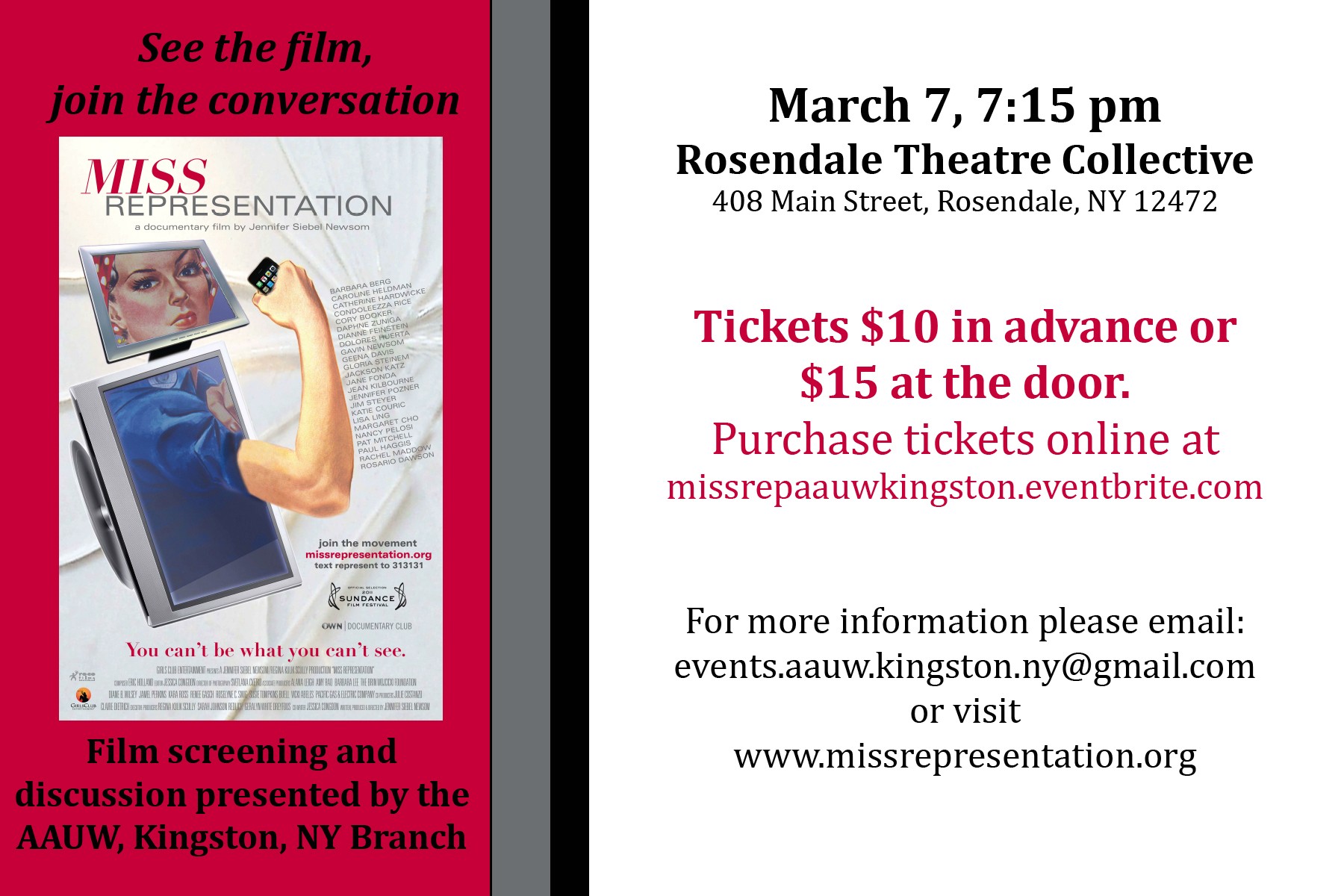 Too often media and advertising send boys and young men the message that they should be in control, violent, and unemotional and women should be treated like objects and second class citizens.
Miss Representation, the award-winning documentary introduced at Sundance in 2011, assesses the impact that the media has on attitudes toward women and girls in American society. It explores links between limited, often negative or overly sexualized, representations of women in media and the continued underrepresentation of women in positions of power.
AAUW Kingston is hosting a screening and panel discussion of Miss Representation at the Rosendale Theater March 7, 2012 at 7:15. Purchase tickets for the screening here.
The film presents examples of those media messages and introduces startling facts and statistics through interviews with a diverse group of concerned men and women. The discussion includes politicians, journalists, entertainers, young students, activists, and academics such as Condoleezza Rice, Katie Couric, Corey Booker, and Rosario Dawson.
AAUW's screening of Miss Representation will be followed by a panel discussing these issues and exploring some of the action steps needed to bring about a more accurate and inclusive representation of women. Panelists include:
Denny Dillon: Actress, Comedian, Visual Artist, and Writer
Ann Gibbons: Journalist
Dion Ogust: Visual Artist, Photographer, Videographer, Animator
Nicole Quinn: Actress, Writer, Director, Producer
Cassandra Lee Walker: Actress
Adele Calcavecchio, Panel Moderator
 Watch the Miss Representation trailer here
Purchase tickets for the screening here: $10 on-line, in advance; $15 at the door
If you have any questions, please email: events.aauw.kingston.ny@gmail.com
This film is rated TV-14 DL